All-On-4 Dental Implant Premium Quality
The All-on-4 implant technique is a modern way and an innovative surgical solution for those patients who have lost most, if not all of their teeth and suffer from their loose dentures.
When a segment of adjacent teeth is missing, need more fixtures for support, and a full arch bridge of 12 teeth may be reliably supported by only 4 implants using our All-On-4 and All-On-4 Plus treatments.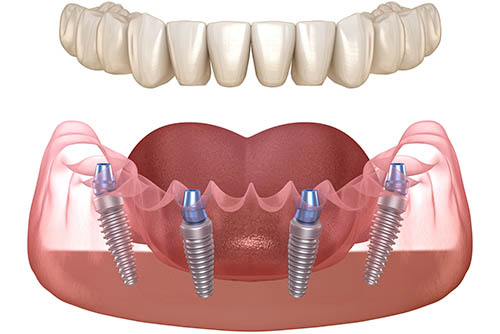 What Is the All-On-4 Treatment Concept?
The All-on-4 treatment concept utilizes four dental implants to attach your new set of permanent replacement teeth in a minimally invasive way.
Full-arch rehabilitation with only four implants
Two straight anterior implants and two implants tilted up to 45º in the posterior
Immediate Function (fixed provisional bridge)
For patients meeting criteria for immediate loading of implants
Graftless procedure
Bone grafting is avoided by tilting the posterior implants, utilizing available bone
All-On-4 Treatment Should be Ideal for,
Anyone who is missing several teeth on the upper or lower jawbone
Anyone who has several damaged or rotting teeth on the upper or lower jawbone
Anyone who is experiencing discomfort from wearing dentures and looking for a more permanent solution
Implant replacement teeth are permanent, better looking and unlike previous implant options, may take less time to complete. Both the surgery and the restorative stages of your treatment are performed right at our clinic, thus ensuring optimal care and quality control.