Dental Implant Bridge
A dental implant bridge, replacing several teeth in a row is a great stable alternative to a denture or conventional bridge.
Dental implant treatment is a possible solution to restore teeth missing or failing in a row, whether there are teeth missing or loose teeth in a row, decayed teeth/teeth with a bad prognosis, broken or cracked teeth or root treatments that have failed.
Why Should I Need an Implant-Supported Bridge?
When there are gaps in the teeth, the surrounding teeth move to take advantage of the space, this puts them out of alignment for a good bite. Fewer teeth also means that the jawbone starts to shrink, causing a change to the facial structure and to the smile.
Whether there is just one tooth missing or two or three, an implant-supported bridge can be used to fill the gap.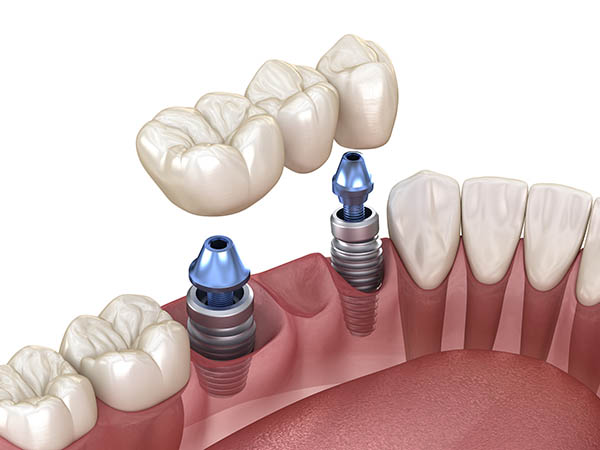 Implant-Supported Bridges Vs. Conventional Bridges
The difference is that instead of supporting the false teeth on the neighboring healthy teeth thus creating a "bridge", they are supported on implants.
Conventional bridges need to be supported by healthy teeth.
With an implant-supported bridge, a false tooth (or teeth) is supported by the implant, there is no damage to the surrounding teeth. The implant bears the weight of the new teeth.
An implant-supported bridge is more durable than a conventional bridge. Conventional bridges will often need to be changed after 10 to 15 years. Whereas an implant-supported bridge, if it is correctly positioned and well looked after, can last the rest of your life.
If you would like to find out more about implant-supported bridges by Dr. Farshad, Implant & Family Dentistry please call 416-223-7711 now. A member of our lovely team will be in touch with you soon to answer any of your questions, or to book you in for a free consultation with one of our dental implant treatment coordinators.