Dynasty Tower Dental offers a full range of denture services, everything from new dentures, relines and repairs, to the latest in implant-supported dentures. With over 20,000 smiles and nearly 30 years of experience, we look forward to helping you not only improve your smile, but enhance your oral health and confidence.
With dentures, you can share your smile and laugh with confidence. We closely consult with patients to determine their exact requirements and how best to achieve them.
Partial Dentures
Partial dentures are usually used, instead of other tooth-replacement methods when natural teeth around the missing area are not strong enough to support structures of other methods such as dental bridges, or when more than one or two teeth are missing.
The partial dentures are fixed to the part of the gum line that dentures will sit on, and fasten to the closest natural teeth to keep from falling out of place. They are not permanently fastened, Also, they can be easily taken out at any time for cleaning and while sleeping.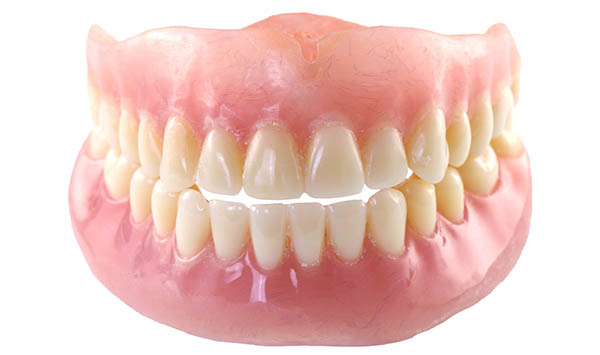 Full Dentures
Known as complete dentures as well, Full dentures are used to treat patients that are missing all of their teeth. You can have them fitted for your top or bottom gum line, and are held in place by suction and/or the help of an oral adhesive. Just like partial dentures, they are easily removable.
What's the Benefits with Traditional Dentures?
Dentures improve the appearance of a smile that has multiple missing teeth, also they keep the structure of the mouth sound by supporting the structures around the cheeks and lips. Dentures make it possible to eat foods that require chewing, making it possible to keep your diet the same and ensure that you are properly nourished.
What's the Problem with Traditional Dentures?
Though traditional dentures may be a good option for some, they can be a hassle! Many people don't want to deal with messy adhesives and nightly cleanings. Plus, there's the embarrassment of having to take their teeth out in front of loved ones, or even the denture falling out during a meal. They can also affect the way you speak and keep you from being able to chew and eat the foods you love. Furthermore, traditional styles do nothing to stop bone loss and gum disease common in those with missing teeth.
Learn More about Dentures and Modern Dentistry
In addition to dentures, we offer a full range of Implant dentistry procedures that will help you achieve a healthy and beautiful smile, including All On 4, Implant Supported Dentures, Implant Bridges, Single Tooth Replacement…
If you still aren't sure whether or not dentures are right for you or if you have other questions or concerns, talk to Dr. Farshad in Dynasty Tower Dental at your next regular dental checkup to discuss the right path for you.
Call today for a Denture Consultation Dynasty Tower Dental Office Phone Number 416-223-7711.