Dental Implant Explanations
About Dental Implants
Implants are generally manufactured from titanium, a metal known to be compatible with body tissues and able to bond with adjacent bone during healing. In recent years, implants made from zirconia – which is white rather than metallic in color and which has similar bone-bonding qualities to titanium – have become more popular and be as effective as titanium ones.
There is now a wealth of evidence from studies and from clinical experience to show that dental implants are a safe and convenient way to replace lost teeth with natural-looking results.
But implants, like natural teeth, need to be looked after. Peri-implant diseases – which involve inflammation of the gums and damage to the bones and tissues around implants – can cause serious problems and lead to the loss of implants. So good oral hygiene at home and regular check-ups with your dentist are essential.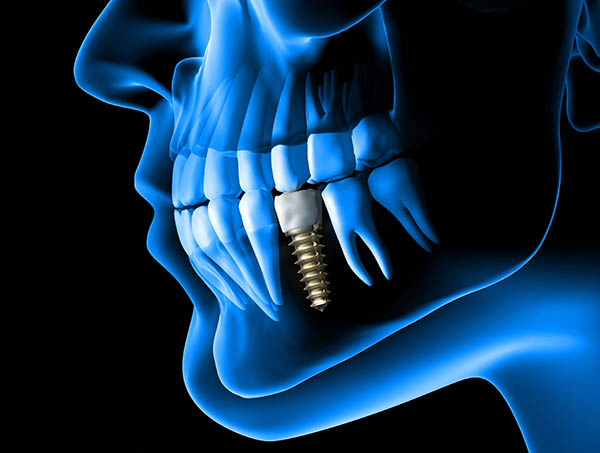 The Stages of Implant Therapy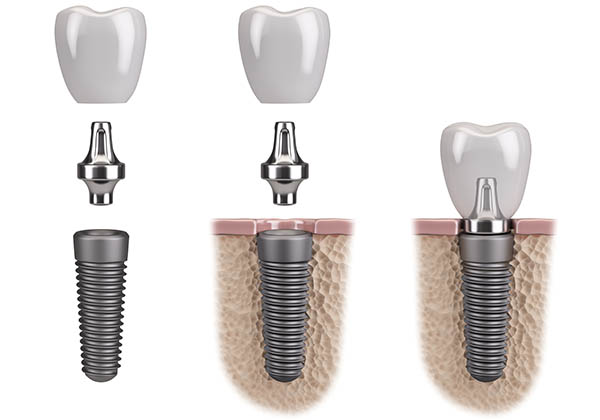 1. Examination
We will make a full assessment of your mouth. Dr. Farshad will take x-rays and/or a cone beam computed tomography (CBCT) scan of your jaws to assess the shape and condition of your bone tissue and locate the positions of important structures – such as nerves and sinuses – which may be close to the intended implant site. He will check the health of your remaining teeth and ensure that surrounding dentition will not interfere with the placement of your new implant
2. Insertion of Implants
One-stage procedure
Two-stage procedure
3. Preparation of Teeth and Impression
When your gums have fully healed (after approximately 4 to 6 weeks), Dr. Farshad will take a new impression of your mouth. This will be used to make a model of your teeth on which the dental technician will construct your crown or bridge, taking care to achieve a natural finish that matches the rest of your teeth.
4. Fitting of crowns or bridges
When your new crowns and bridges have been prepared, we will cement or screw them onto the abutments over the dental implants, check that they fit well and look good, and check that your upper and lower teeth work together comfortably when you bite. You will usually need to return for several review appointments to make sure that the implants are stable and functioning well, and that you are completely happy with the finished result.
5. Bone grafts and bone regeneration ( exceptional )
In some cases, not all, bone grafts or bone regeneration are needed to prepare the jawbone to be able to support the implant.